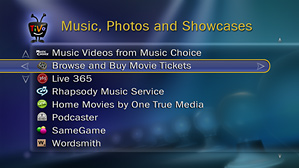 TiVo partners with Fandango to bring you convenient movie information. With your broadband-connected box, you can check show times for your local movie theaters and purchase tickets in advance!
This feature is available on:
Series2
Series3
TiVo HD and TiVo HD XL
All TiVo Premiere boxes
Buying movie tickets with Fandango
Movie tickets and showtimes are a few clicks away.
Press the TiVo button to go to TiVo Central, and then do one of the following:
If this is your first time using this service, enter your zip code and press SELECT. If you have used the service before, simply press SELECT to enter "Movies Central."
From "Movies Central," browse for the movie you'd like to see, then press SELECT. See it
From the "Movie Details" screen, select "Find Showtimes."See it
Use the arrow keys on your TiVo remote to choose a date, a theater, and
a time from the provided lists.
On the "Choose Tickets" screen, select the number of tickets you'd like to purchase. As you add tickets, the "Buy Tickets" button displays your total purchase.See it
When you're finished adding tickets, select "Buy Tickets."
Follow the on-screen instructions to enter your credit card information. The final credit card screen will allow you to review your order. If the order details are correct, press THUMBS UP three times to confirm your purchase. To make a change, press the LEFT arrow to go back.
You have the option of printing your tickets at home or using the Fandango kiosk at the theater (check with your theater for availability).