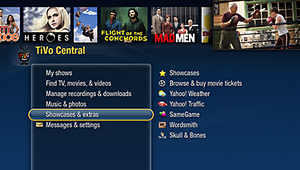 Showcases let you see exclusive video like the inside scoop on hit movies, special events, and popular series, and demos of the latest gadgets and services.
This feature is available on:
View Showcases
Showcases are updated all the time. To check out what Showcases are available today:See it
Go to TiVo Central, and then do one of the following:
Click on the Showcase that interests you, and prepare to be dazzled!
Showcases may contain video clips, including exclusive short films, promotional spots, and movie trailers. Viewable clips are marked by the clapboard icon .See it
Try a gold star
Some Showcases are accessed from a special promotion on TiVo Central or in other menus. When you press SELECT on a gold star

 promotion you'll be taken to a Showcase where you can learn more about that product or service.
Request more information
Some Showcases offer the opportunity to request more information by mail, or by email. TiVo respects your privacy, so your contact info is private unless you request it to be shared with a promotional partner.See it