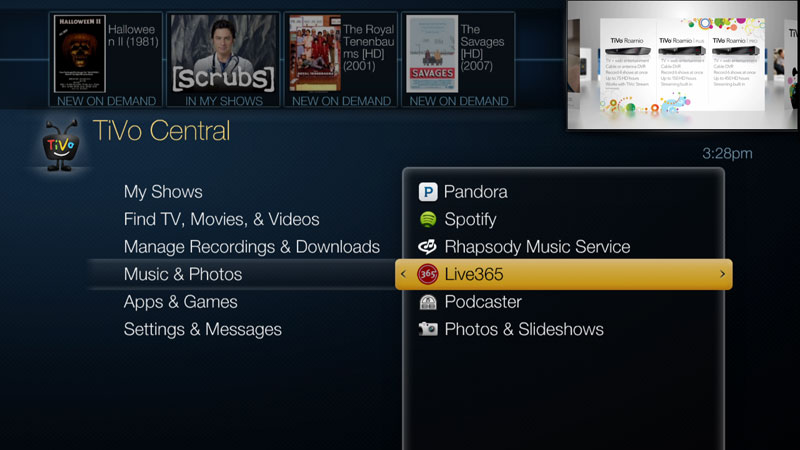 Live365 is the world's largest Internet radio network, and now its thousands of stations are available to you through yourTiVo box. From popular hits to specialty programming, Live365 on TiVo offers an easy way to access the incredible variety of radio stations available via the Internet.
Additional features are available to TiVo subscribers with a Live365 VIP membership. To learn more, visit live365.com/tivo.
This feature is available on:
TiVo Roamio (

all models

)
TiVo Premiere (

all models

)
TiVo HD (

all models

)
TiVo Series3
TiVo Series2

TiVo Mini
Listening to Live365 on TiVo
To start listening to Live365 radio on your TiVo box:
Press the TiVo button on your TiVo remote to go to TiVo Central, then 

select 'Music & Photos' > 'Live365.'

See it

Browse the available Internet radio stations.

See it

When you find a station you want to listen to, press SELECT to get more information about it and play it. Or, just highlight it and press PLAY.

See it
You can continue browsing radio stations while listening. To return to the station you're listening to at any time, press INFO on your TiVo remote. If you exit Live365, playback will stop.
After a few minutes of playing time, a screen saver is automatically activated to protect your TV screen. Press any button on the TiVo remote to return to Live365.