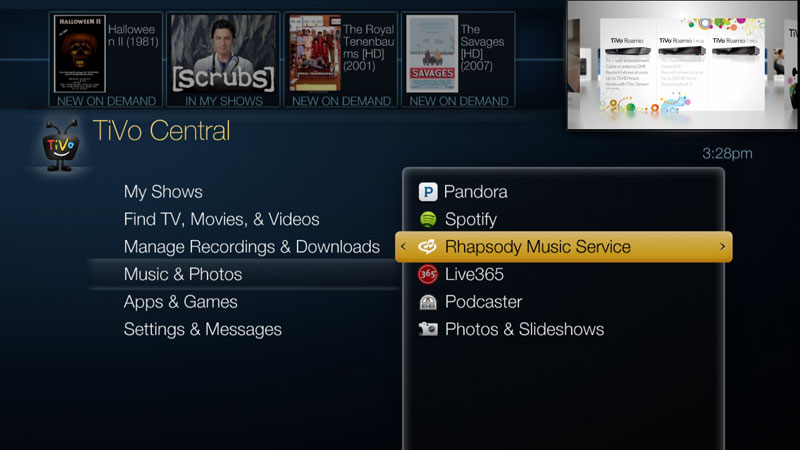 The Rhapsody Music Service gives you unlimited access to a catalog of millions of tracks in dozens of genres. Listen to your old favorites and the newest releases - instantly.
With a paid subscription, you can log in to your Rhapsody account from your TiVo box. You'll have access to the same library of songs that you see on Rhapsody online. You can even search Rhapsody using your PC or Mac, and have the music available on your TiVo box for easy playback through your living room speakers.
Try the Rhapsody Music Service free for 30 days. Then become a member by visiting www.rhapsody.com/tivo. (The same subscription works on computers and compatible portable players.) If you already have a membership with Rhapsody or the Best Buy Digital Music Store you can access it from your TiVo box right now — with no additional charge.
This feature is available on:
TiVo Roamio (

all models

)
TiVo Premiere (

all models

)

TiVo Mini
Listening to Rhapsody music
To start using Rhapsody on your TiVo box:
From the TiVo Central screen, 

select 'Music & Photos' > 'Rhapsody Music Service.'

See it

Accept the 30-day free trial, or if you're a Rhapsody member, sign in.
Search for your favorite artist, album, or track, or browse the Rhapsody Music Guide.

See it

When you find a song ,album, or artist you like, just highlight it and press SELECT to see options.

See it

You can continue browsing artists and albums while listening. If you exit Rhapsody, playback will stop.

After a few minutes of playing time, a screen saver is automatically activated to protect your TV screen. Press any button on the TiVo remote to return to Rhapsody.
Using the Play Queue
At any time, you can view your "Play Queue" to see which tracks are coming up. Just press INFO or go to the Rhapsody main menu and select "Play Queue."
To save this queue, press ADVANCE. Or, while viewing the play queue,highlight any title, and you'll have the following options:
Press FAST FORWARD to go to the next track
Press REWIND to go to the previous track
Press PLAY to start the current track over
Press PAUSE to pause playback
Press SELECT or RIGHT on any title to get more options
TiVo remote tips
Many buttons on the TiVo remote work with music from Rhapsody just as you would expect them to: press PLAY to play music and PAUSE to pause playback. Other buttons have special functions within Rhapsody:
INSTANT REPLAY : Return to the top level of Rhapsody.
INFO: View your play queue.
FAST FORWARD and REWIND: Skip to the next or previous track.
RECORD: Add the current track to your Music Library.
CLEAR and ENTER: Check the screen tips at the bottom of the screen for specific shortcuts.