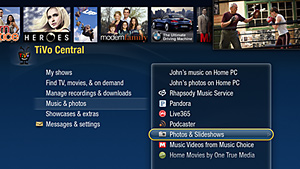 Photobucket is the most popular site on the Internet for uploading, sharing, linking, and finding photos, videos, and graphics. Now you can use your broadband-connected TiVo box to access photos stored in your Photobucket account.
To sign up, visit photobucket.com to create a free account and start uploading photos.
This feature is available on:
Series2
Series3
TiVo HD and TiVo HD XL
All TiVo Premiere boxes
TiVo Mini
Access your Photobucket account from your TiVo box
View slideshows of photos you store on Photobucket. Here's how:
Create a free account at photobucket.com.
Upload your photos.
Go to TiVo Central and do one of the following:
If you're already signed in, select 'My Photos' > 'My Photobucket' to view your photos. If you're not yet signed in, select 'My Photo Accounts' > 'Sign in to Photobucket.'See it
View your photos.
Viewing public photos
You don't need a Photobucket account to browse and view public photos from your TiVo box.See it
Search for keywords to find interesting photos, and bookmark photos or albums (by pressing RECORD on your TiVo remote) to view them later.
Press PLAY on your TiVo remote while viewing albums to play a slideshow.