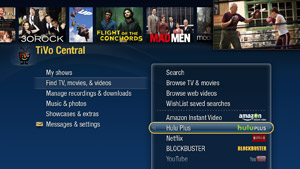 With Hulu Plus on TiVo, you can stream TV episodes and movies right to your TiVo® Premiere box with many titles in HD!
This feature is available on:
All TiVo Premiere boxes
TiVo Mini
Creating your Hulu Plus account
You'll need to visit Hulu's website and establish an account to watch Hulu Plus on TiVo. If you already have a Hulu Plus account, you can skip this section.
If you do not yet have a Hulu Plus account, sign up for a free trial or create a new account at hulu.com/plus/premiere.
Setting up Hulu Plus on your TiVo box
The first time you use Hulu Plus on your TiVo box, you will need to go through a one-time setup process to link your TiVo box to your online account:
On your TiVo box, press the TiVo button on your remote to get to TiVo Central®, select 'Find TV, movies, & videos' > 'Hulu Plus.' See it
You will be asked, "Are you already a Hulu Plus subscriber?" Highlight "Yes," and press SELECT.
Write down the activation code that is displayed on the next screen. See it
On your PC or Mac, go to www.hulu.com/activate and enter the code.
Congratulations! You're ready to use Hulu Plus on TiVo!
Finding shows
With Hulu Plus on TiVo, it's easy to find just the right show or movie to fit your mood.
From the main Hulu Plus screen, press the DOWN arrow on your TiVo remote to move to the menu items at the bottom of the page. Use the LEFT and RIGHT arrows to scroll through the menu and highlight your choice, then press SELECT. Choose from the following options:

When you find an item to watch, highlight it and press SELECT.
Enjoy!
Controlling video playback
While watching a Hulu Plus video, you can fast forward, rewind, pause, stop, or even continue to browse for other shows to watch. Here's how: See it
Fast forward: press and hold the FAST FORWARD button on your TiVo remote
Rewind: press and hold the REWIND button on your TiVo remote
Pause: press the PAUSE button on your TiVo remote. Press the PLAY button to resume playing.
Stop: press the INFO button to bring up the on-screen controls. Then press the DOWN arrow, and then the RIGHT arrow to highlight "Stop." Press SELECT.
Browse: Press the ZOOM button while watching a video. The video will minimize to a video window in upper right corner of the screen; it will continue to play while you browse for other items. You can still pause, fast forward, or rewind the video while it is in the video window. See it
Managing your videos
From the main Hulu Plus screen, select "Queue/Profile" to view your video queue and history, manage your subscriptions, view recommendations, and log out.