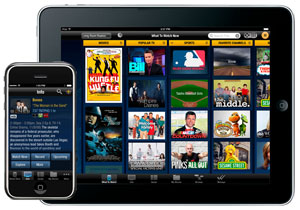 All you need to stream and transfer shows to your iOS device (iPad, iPhone, and iPod touch) is a TiVo Stream or a TiVo Roamio Plus or Pro DVR and the free TiVo app.
Note: To use the TiVo Stream, you must have a four-tuner TiVo Roamio or TiVo Premiere series DVR that connects to your home network using either a wired Ethernet or MoCA connection. See Connect your TiVo box to your home network for more information on networking options. Learn more at TiVo Stream and TiVo Roamio or visit the TiVo Store to purchase your streaming device now.
Download the TiVo app to get started. For help setting up and using features of the app not covered in this article, see How to use the TiVo app for iPad or iPhone.
The TiVo app works with the following TiVo DVRs:
TiVo Roamio (

all models

)
TiVo Premiere (

all models

)
TiVo HD (

all models

)
TiVo Series3
Find out which TiVo app features are available with your TiVo DVR.

Download the app
Requirements:
Compatible with iPad/iPhone.
Requires iOS 7.0 or later
Streaming shows to your iPad or iPhone
You're a few taps away from watching live TV or recorded shows wherever you are – even if you're away from home.
Be sure that your TiVo Stream or TiVo Roamio Plus/Pro is connected to your home network.
Launch and sign in to the TiVo app. (See How to use the TiVo app for iPad or iPhone if you need help getting started.)
To stream a recorded show:
To stream live TV:

Tap the Guide button at the bottom of the screen to browse the program guide. Scroll the guide columns up or down to view more listings. (You can also use the numbers on the side of the screen to skip quickly to a range of channels.)
Choose a show that is currently airing, and tap the title to select it.
Tap "Watch Now" and then choose "on iPad" or "On iPhone." Your TiVo DVR will start recording the show and it will begin streaming to your mobile device immediately.

See it
Downloading shows to your iPad or iPhone
If you want access to your recordings when you don't have Internet access (in the car, on a plane, etc.), download them to your iPad or iPhone.
Tap "My Shows."
Tap the "On DVR" tab to view the DVR's My Shows list.

See it

Tap the title of the show you want to download, then tap "Download."
Choose a download quality, then tap "Download with these options." Note that "Best" quality downloads will take up more space on your iPad/iPhone than "Medium" or "Standard" quality downloads.
Tap "On iPad" or "On iPhone" to see your show added to the download queue.

See it

If you have more than one show waiting to download, you can rearrange the order in which they'll download or delete shows from the download queue:

Tap "Edit" on the "On iPad" or "On iPhone" screen.
To rearrange the download order, drag and drop shows into the order in which you want to download them.

See it

To delete a show, tap the empty circle next to each show you want to delete, and then tap "Delete."

Downloaded shows appear at the bottom of the download queue (if any shows are in the queue). Tap a show to view information about it. Choose "Watch now", then "Watch on iPad/iPhone" to watch the show on your mobile device. You can also delete it from your iPad/iPhone.

See it

Note: Downloaded shows are available to watch only from the TiVo app, not from the "Videos" section of your iPad/iPhone. If you uninstall the TiVo app, the downloads will be deleted from your iPad/iPhone.
iOS, iPad, iPhone and iPod touch are trademarks of Apple, Inc. registered in the US and other countries.