All the TV and movies you can watch.
When you use your Roamio DVR to access your Netflix, Amazon Prime, Hulu Plus or VUDU account, you can enjoy thousands of movies and TV shows, right on your broadband-connected TiVo DVR!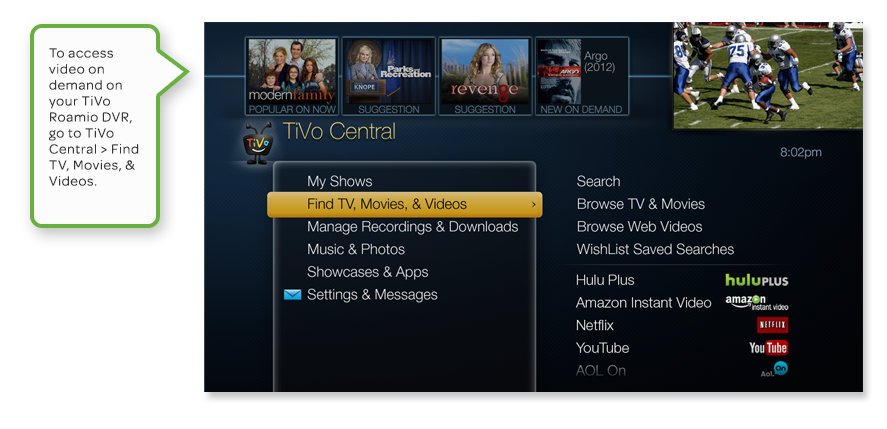 Additional Resources
Wrap your arms around the web.
Browse and view YouTube and AOL On videos from the comfort of your own couch with your broadband-connected TiVo Roamio DVR. Plus, you can pause, rewind, fast-forward and instant replay web videos just as you would with any other video on your DVR. And, with the Opera TV App Store, you get access to hundreds of apps to explore and enjoy.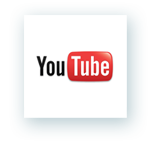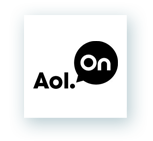 Additional resources
Bring more baseball into your living room.
With the MLB.TV app on TiVo Roamio, never miss a grand-slam, no-hitter or shutout again. It's never been easier to catch the teams you love in action. Enjoy every Regular Season out-of-market game, live or on demand—with the press of a button.
Turn the music up.
The TiVo Roamio DVR is music to your ears. By combining Pandora, Spotify and your own personal music library, you'll always have the tunes you want to hear at the touch of a button.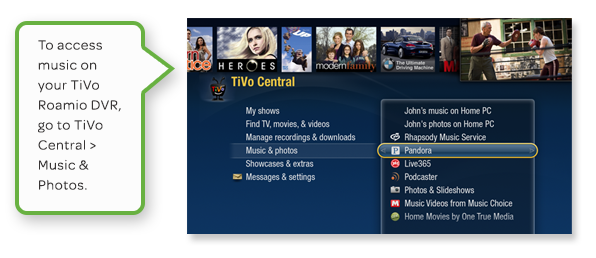 Friends with benefits.
Being friends with TiVo pays off when you connect with us on Facebook, Twitter, YouTube,Tumblr, Instagram and our TiVo blog. We'll give you exclusive access to program recommendations and news on the latest product features. Plus, insider TiVo tips, alerts, special deals and more.
Stay in touch with Roamio from anywhere.
Don't forget to download the free TiVo app for your iOS or Android device and stay connected to your TiVo Roamio from anywhere. Learn more
4-tuner Roamio users: To watch live and recorded TV from anywhere, you'll need a TiVo Stream (sold separately). Shop now
6-tuner Roamio Pro/Plus users: You can watch and download shows on your iPad. Stream to the backyard or take your favorites to go. Nothing extra required. Learn more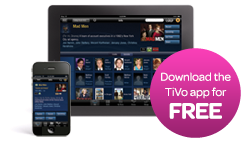 Protect the one you love with an extended warranty.
If you're still within the 30-day window, you can add an Extended Warranty to your TiVo contract. To get up to 3 years of extended coverage, call 1.877.367.8486 to protect your investment for only $39.99.