How to browse YouTube™ on your TV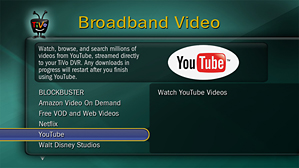 Now you can browse and view YouTube™ videos from the comfort of your couch with your broadband-connected TiVo Premiere, TiVo HD, or Series3 box.
WARNING: YouTube™ on the TiVo® box is unbelievably easy to use and can be joyously addictive.
This feature is available on:
Series3
TiVo HD and TiVo HD XL
All TiVo Premiere boxes
TiVo Mini
Finding videos to watch
Browsing YouTube™ with the TiVo service is just as easy as browsing YouTube™ on the Internet. Here's how: See it
Show the steps

On your TiVo box, go to TiVo Central. Then select one of the following:
Here you'll see familiar video categories as well as an option to Search.

See it

When you highlight Featured Videos or Most Recent, you'll see a list of videos on the right. Use the arrow buttons on your remote to browse the list. Use CHAN/PAGE to page up and down.
When you highlight Top Favorites, Most Viewed, or Top Rated, you'll see options to limit the list to videos uploaded today, this week, in the past 30 days, or all time. Select a time period to see a list of videos.
Select "Search" to enter a search term. Once you type a few letters, a list of videos appears.

See it

When you find a video you want to watch, highlight it and press PLAY.

Note: To search for similar words, use the asterisk (*) as a wild card character that replaces the endings of words. For example, enter AIRP* to find 'airplane,' 'airport,' 'airplay,' and 'airpark.'

Note: For search terms of more than one word, enter a space by selecting 'SPC' or pressing the FORWARD  button on your TiVo remote.
Playing YouTube™ videos on your TiVo box
Playing YouTube™ videos on the TiVo box is just like playing a TiVo recording. You can pause, rewind, fast-forward, and instant replay just as you would with any other video on your TiVo box. However, there are some unique features of YouTube™ videos:See it
To stop playing a video and return to the list, press the LEFT arrow.
When the video ends, you can replay it by pressing INSTANT REPLAY .
When playback finishes, you'll see a list of related or similar videos. Use the arrow buttons to move up and down through the list, and press PLAY to play a video.
YouTube™ videos are not stored on your TiVo box, so they do not appear on the "My Shows" list and they do not use any available recording space.
Note: YouTube™ videos may contain content not suitable for all viewers. You may restrict access to this feature by enabling the TiVo box's built-in KidZone feature (not available on TiVo Premiere with HD menus).