How to search with Swivel Search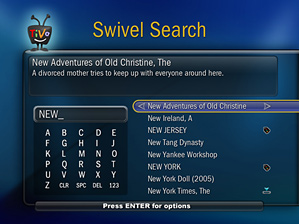 Swivel Search helps you find new shows that are related to shows you already like. Plus, it searches both broadcast TV and broadband downloads from TiVoCast and Amazon Instant Video.
This feature is available on:
Series2
Series3
TiVo HD and TiVo HD XL
TiVo Premiere with SD menus*
* On TiVo Premiere with HD menus, see how to search by title (and more!)
Using Swivel Search
Note: To use Swivel Search, your TiVo box must be broadband-connected. See how to connect your TiVo DVR to the Internet.
Hide the steps

Press the TiVo button to go TiVo Central, then select "Find Programs."

See it

Select "Swivel Search."

See it

Enter NEW YORK using the onscreen keypad. Notice that the tag NEW YORK appears in the right column marked with the TiVo Tag icon.

See it

Highlight the NEW YORK tag and press SELECT on your remote. A screen listing a variety of matching shows appears, everything from Law & Order to Sesame Street.

See it

Select Law & Order, then select "More program info..." in the right column. The Law & Order series screen lets you browse upcoming showings, and gives you a list of people and tags in the left column.
Select any person's name and you'll see other TV shows and movies related to that person, whether he or she is an actor, director, producer, etc. You can even select "If You Like This..." in the left column to see related shows.

See it

Select any title to see options to record or download the show.

All recorded shows appear in your "My Shows List," which you can access simply by pressing the TiVo button on your remote control twice! See it

Note: Swivel Search works best if it searches only on channels you receive, ensuring that search results always include shows you can record. To do this, Swivel Search prompts you to change your privacy status to "opt in," allowing the TiVo service to store information about your channel lineup for use in Swivel Search.