The TiVo experience tailored for distribution by cable companies.
TiVo delivers fantastic consumer experiences through a combination of leading-edge consumer products, cloud-based services and content relationships. The result is a single 'box' with the ability to aggregate, search, and deliver millions of broadband, cable, and broadcast content assets directly to the core of the home media experience—the television. TiVo's intuitive functionality and ease of use puts viewers in control by enabling them to effortlessly navigate the best digital entertainment content available through one box, with one remote, and one user interface, delivering the most dynamic user experience on the market today.
TiVo's operator solutions start with optimizing the TiVo experience for distribution by the operator—co-branding the user interface, incorporating the operator's content, and providing powerful promotional tools for the operator's revenue content.
Products
TiVo provides a robust product enabling our partners to determine the solution that works best for them:
Partners
TiVo has partnered with the following North American operators: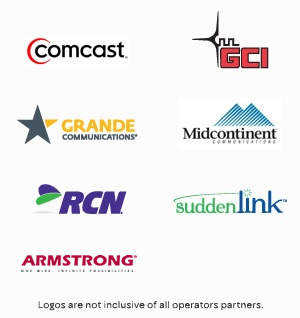 Why TiVo?
TiVo brings the operator content, navigation, and branding options that they can't get elsewhere…
Intuitive navigation and powerful search capabilities
Operator branding front and center: on the box, the remote, the UI
Operator's content given priority placement in UI
Market-leading content in one box with one interface and one remote:

Cable operator's VOD, PPV and linear content
Broadband video: Netflix, Amazon Instant Video, YouTube™, web videos and more
Broadband music: Pandora® and more
Home networking, music, photos and more
Additional Information
For more information contact TiVo Business Development at bizdev@tivo.com.
" We reviewed a number of alternatives to find the best way to offer a full suite of linear television, VOD, and broadband-delivered content to every room in our customers' homes. We found that TiVo, by way of its best-in-class user experience, its leading consumer feature set, and rapid time-to-market is a very compelling answer. "
Jerry Kent,
Suddenlink CEO