Elevate your cable experience with TiVo.
TiVo works with your existing cable service to provide an enhanced user experience. Replace your cable box with TiVo, and enjoy all the benefits and features it has to offer.
Store up to 3,000 hours of programming
Record up to six shows at once
Stream or download content to your mobile devices
Search TV and web apps simultaneously
Access available on-demand libraries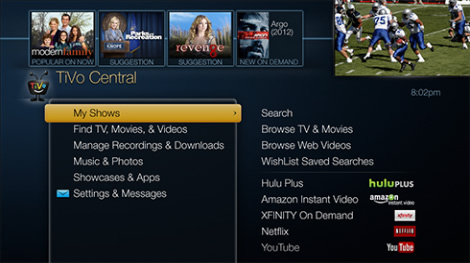 It's easy to get started.
Follow these simple steps or watch the video to begin your cable setup.
Return your cable box and replace with TiVo DVR
Request a CableCARD from your cable provider
Connect your coax cable
Connect to your home network
Install CableCARD
Follow the Guided Setup on your screen

Comcast customers can enjoy XFINITY On Demand on TiVo Roamio DVRs.
Only TiVo offers all your entertainment from TV, the web and XFINITY On Demand—all in one box.