You are here
TiVo Stream
TiVo Stream delivers live and recorded shows from your home DVR straight to your Android or iOS mobile device.
Watch TV while its recording at home or [coming soon] on the go
Download recordings to your iOS device to watch on the road
Stream your shows to as many as four mobile devices at once
TiVo® Stream features
Watch live or recorded shows at home or [coming soon] on the go
Download a one-hour show in as little as 15 minutes
Control show playback with pause, 30-second skip, instant replay—just like your TiVo
Go ahead, be a control freak with the TiVo app
Control live TV
Schedule recordings on your DVR
Manage your To Do List and Season Pass® requests
Publish comments about shows to Facebook and Twitter
Switch from mobile device to TV viewing with one tap
TiVo Mini
Want to watch TV in another room? The TiVo® Mini lets you watch live TV and recorded shows from your TiVo® DVR on another TV in your house. Each Mini enables another TV.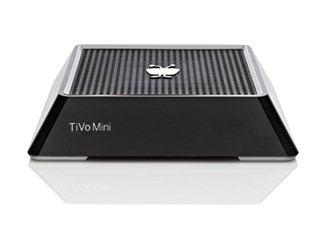 HDMI Cable
6' (1.8M) 1080p Certified Gold HDMI Cable - 30 AWG.
6 ft 1080P certified HDMI Cable
Gold Plated Phosphor Bronze contact
RoHS compliant
Works with:
All Series 3 and newer boxes
TiVo Slide Pro - Roamio
Thought you had it good with your TiVo remote? Enhance your TiVo experience with the new TiVo Slide Pro Remote! Not only does it have a slide out QWERTY keyboard and fully backlit buttons to make searching and text entry faster/easier/dark-room-friendly, but it has an ergonomic exterior that makes it sleeker than ever.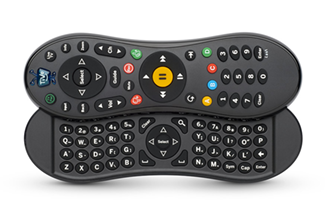 Full QWERTY-format slide out keyboard makes text entry fast and easy. RF signal for maximum power removes line-of-sight requirements, ideal for in-cabinet setups or when device is mounted behind a TV.
"Search" button brings you directly to the search menu, and "Back" button lets you navigate easier in web apps.
One remote does it all: control power, input, volume and mute of your TV and/or audio receiver.
Press the remote finder button on your TiVo Roamio Plus or Pro to have the remote play a TiVo jingle so you can easily find it.
Light sensor automatically activates glow feature on backlit keys and keyboard, so you never have to turn on a light.
Learning capable - Programmable to control power, input, volume, and mute on your TV and A/V receiver using built-in database of commands, or learn these commands directly from your TV's and receiver's remote controls.
Requires 2 AA batteries (included)
Works with:
All TiVo Roamio DVRs
All TiVo Premiere DVRs and TiVo Minis with dongle
TiVo Roamio
Extended coverage
for only $15/year
Free parts and labor for 3 years
Record up to four shows at once and up to 75 hours of your favorite shows in HD.
You can have it all with the new TiVo® Roamio. Watch TV and web entertainment, enjoy unparalleled search and get all your favorite shows, movies and songs in one place.
Enjoy live and recorded TV as well as the best entertainment on the web.
Access movies and music from Hulu Plus, YouTube™, Pandora®, Spotify and more*
Use the TiVo® app for tablets and smartphones to schedule and browse
TiVo® Roamio features
Up to 75 HD hours
Record up to four shows at once
Compatible with TiVo Stream for mobile streaming capability
Built-in Wi-Fi
Support HD antenna and digital cable
Easy-to-use interface
HD user interface for optimized search and discovery
TiVo® Search lets you search for shows by title, actor, category or keyword.
WishList® searches allow you to search by actor, director, keyword or category; every time a show matching your criteria airs, it's recorded.
Use SeasonPass® recordings to schedule every episode of your favorite shows.
Service Required
TiVo DVRs and the TiVo Mini require a TiVo service subscription, and we offer two options: monthly and product lifetime.
Monthly:
New TiVo Roamio and Premiere DVRs: $14.99/month with 1-year commitment (reduced to $12.99/month if eligible for our multi-service discount). $75 early termination fee.
Previously activated TiVo Roamio or Premiere DVRs: $14.99/month with 1-year commitment (reduced to $12.99/month if eligible for our multi-service discount). $15 early termination fee.
TiVo Mini: $5.99/month with 1-year commitment. $25 early termination fee.
Product Lifetime:
All TiVo Roamio and Premiere DVRs: one-time payment of $499.99 (reduced to $399.99 if eligible for our multi-service discount).
TiVo Mini: one-time payment of $149.99.
Additional Terms and Restrictions
TiVo Service Subscriptions:
Monthly TiVo service subscriptions will continue after the 1-year commitment period at the same monthly rate until you cancel.
No-commitment monthly service is available with the purchase of a new full-priced TiVo device directly from TiVo (call 1-877-289-8486 for more information).
Product Lifetime TiVo service subscriptions last for the lifetime of your TiVo device (not your lifetime), and may not be transferred to another TiVo device.
Streaming/Downloading:
Requires an Apple iPhone, iPad, or iPod Touch device running iOS 5.1 or higher.
Not all recorded content can be downloaded to your mobile device (due to the copy protection assigned by the content provider).
Some recorded content can only be streamed and/or downloaded to your mobile device while you are on the same local network as your TiVo Stream or TiVo Roamio Plus/Pro DVR.
Out-of-home streaming/downloading (coming soon) may not be available for all recorded content.
Wired network connection required (via MoCA or Ethernet).
TiVo DVRs and the TiVo Mini:
Additional third-party fees may apply in order to use some apps (such as Netflix and Hulu Plus).
Broadband Internet connection required.
TiVo Premiere and Roamio DVRs do not work with satellite. The TiVo Premiere 4/XL4/Elite and Roamio Pro/Plus are intended for use with digital cable systems only and do not work with external cable boxes, analog cable, or over-the-air antennas.
To receive digital cable channels, TiVo DVRs require one Multi-Stream CableCARD decoder from your cable provider. Additional fees may apply.
TiVo Mini requires a TiVo Roamio, Premiere 4, or Premiere XL4/Elite DVR.
All features, functionality and offers subject to change without notice. See the TiVo User Agreement and Privacy Policy for additional terms and conditions that apply to your subscription to the TiVo service and use of a TiVo device.
TiVo DVR/Mini limited warranty
Included with your TiVo service plan
90 Days Free Labor | One Year Parts Exchange
Offers 90-day coverage of labor starting from the purchase date
Offers coverage for parts only for one year starting from the purchase date
Return shipping charges, upgrade fees, and advance ship deposits are not covered by the TiVo limited warranty
For details on warranty terms, see the TiVo® DVR/Mini limited warranty plan
2-year extended warranty
$29.99
Extended coverage for only $15/year
Free parts and labor for 2 years
Offers 2-year coverage of parts & labor starting from the purchase date
Extended warranty plans eligible for purchase 90 days from the earlier of the purchase date or TiVo service activation date
2-year extended warranty plan supplements the TiVo® DVR/Mini limited warranty plan. Extended warranty plans apply to the original product and are consumed after use
For details on full warranty terms, see the 2-year extended warranty plans
Extended warranty is tied to the device for which it is purchased
If a device is replaced outside of initial 90 day warranty period, the extended warranty coverage will be applied
Money-Back Guarantee for extended warranty applies only if extended warranty plan is canceled within 60 days from the date of activation / warranty purchase
Return shipping charges, upgrade fees, and advance ship deposits are not covered by the extended warranty
3-year extended warranty
$39.99
Get a 3rd year for only $10 more
Free parts and labor for 3 years
Extended warranty is tied to the device for which it is purchased
If a device is replaced outside of initial 90 day warranty period, the extended warranty coverage will be applied
Money-Back Guarantee for extended warranty applies only if extended warranty plan is canceled within 60 days from the date of activation / warranty purchase
Return shipping charges, upgrade fees, and advance ship deposits are not covered by the extended warranty
Money Back Guarantee should link to: tivo.com/terms and anchor at the "30-day Money Back Guarantee" section