You are here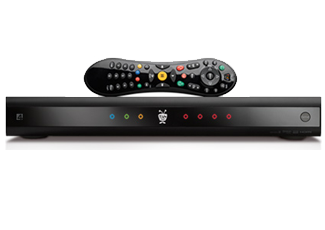 4 tuners to record 4 shows at once
Up to 75 HD hours
TiVo® Standard remote
Supports digital cable channels only
Searches TV & web apps simultaneously
Online & mobile scheduling
Replaces your cable box*
Streams music and photos from any home network and the web
Free TiVo App for iPad®, iPhone® and Android provides a richer TV experience
Easy access to:





Tech Specifications
All TiVo Premiere DVRs plug directly into your cable service, replacing your cable box, but do not provide your cable TV programming.TiVo DVR Limited Warranty included with all DVRs.
The Basics
| | |
| --- | --- |
| Cable, antenna or satellite? | Works with digital cable and Verizon FiOS®. AT&T U-verse, antenna and satellite not supported |
| Internet connection required to receive the TiVo Service | Wireless, wired Ethernet, or Ethernet over coax (MoCA). Streaming content between multiple TiVo devices using wireless is not supported. |
| CableCARD requirements | One multi-stream CableCARD decoder from your cable company (additional fee may apply)** |
The Details
Recording capacity
Up to 75 hours of HD
Up to 650 hours in SD
Series architecture
TiVo Series4™ architecture
TV input sources
Digital cable (QAM only) and Verizon FiOS®. Does not support AT&T U-verse, satellite, analog cable, or antenna (ATSC).
Video output modes
480i, 480p, 720p, 1080i, 1080p
Ouputs
HDMI, component video, composite video, optical audio, analog audio
Inputs
CableCARD™ support, cable coax, Ethernet connection, USB 2.0 ports (2), E-SATA, MoCA
Wireless adapter support
TiVo Wireless N, Wireless G network adapters
(Not recommended for streaming content between two or more TiVo devices)
Phone adapter support
No
THX® sound and video certification
Not THX® Certified
Remote control
Standard TiVo remote
Dimensions
16.5" W x 9.7" D x 2.4" H with feet (2.1" H without feet – bezel height) Outer carton: 19.75" W x 13" D x 6.125" H.
Carton weight
6.64 lbs
Included in the carton
TiVo Premiere
TiVo standard remote
Instruction manual and Quick-Start guide
Cables: HDMI, Ethernet, Composite video & audio, power
Datasheets
TiVo Premiere 4 datasheet
Diagram

* Broadband Internet connection required. Due to restrictions placed by copyright holders, certain premium programming cannot be transferred to computers or mobile devices. TiVo Desktop Plus software (sold separately) is required to transfer recordings to mobile devices.
** CableCARD™ Decoder. A CableCARD decoder is required for your TiVo Premiere DVR to receive any cable programming. The TiVo Premiere 4 and Premiere XL4 are designed for use only with digital cable systems. They do not receive analog programming, including over-the-air programming, and will not work with an over-the-air antenna. Most of the largest cable providers have "digital simulcast," which means they rebroadcast all of their analog channel programming on digital channels as well. This means that all programs available on analog channels are also available on digital channels when a CableCARD is inserted. Therefore, if your provider has "digital simulcast" you will not miss any of your cable channel programming with a TiVo Premiere 4 or Premiere XL4. Please contact your provider if you are unsure whether its service provides digital simulcast of all analog programming.
© 2013 TiVo Inc. All rights reserved. TiVo, the TiVo logo, Series4, and the Series4 logo are trademarks or registered trademarks of TiVo Inc. or its subsidiaries worldwide. HDMI, the HDMI logo, and High Definition Multimedia Interface are trademarks or registered trademarks of HDMI Licensing, LLC. Dolby and the Double D symbol are trademarks of Dolby Laboratories. CableCARD is a trademark of Cable Television Laboratories, Inc. All other trademarks and tradenames are the property of their respective owners.
Comparison
TiVo® Premiere helps you maximize the value of your monthly cable service. And with an Internet-connected TiVo Premiere you get access to a world of free movies, TV shows, web videos, music, podcasts and more delivered over the Internet, all at your command, all in one amazing box.
DVR features
Premiere
/4/XL4
HD/Series3
Series2
Series1
Broadband Internet-connected features
Premiere
/4/XL4
HD/Series3
Series2
Series1
Installation
Set up your TiVo Premiere DVR in 4 easy steps
An easy to follow "Start here" poster is included with your TiVo Premiere and will guide you through the setup process. Get an overview of the steps below or watch the video.
1
Connect your TiVo Premiere to your TV
We recommend using the included HDMI cable for an optimal HD experience
You can also use the included composite cables to connect to your TV
2
Connect your TiVo Premiere to your cable TV source
Connect your cable company's coax cable into the back of your TiVo Premiere
Insert the CableCARD™ decoder supplied by your cable company into the back of your TiVo Premiere
3
Connect your TiVo Premiere to the internet
Use Wired Ethernet, or
Wireless network (not supported for Multi-Room Streaming), or
For Premiere 4 or Premiere XL4s:
Plug a
Coax cable
into the MoCA port
located on the back of the DVR
Learn more

4
Plug in and power up your TiVo Premiere!
You will be taken through a guided setup program right on your TV.
Once you're done...
You will be ready to record TV, access the world's largest on-demand video store, watch YouTube™, stream music from Pandora, schedule recordings remotely, and more.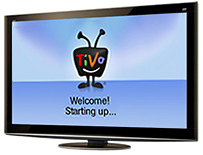 Frequently Asked Questions
Compatibility and setup
CableCARD™ decoders
Service fees, warranty and how to buy
The TiVo User Experience
Technical and functionality questions
Need help?
|
877-494-4567