You are here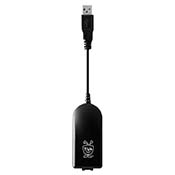 TiVo USB Phone Line Adapter
Fast plug-and-play set up: connect directly to your phone line and plug into your Premiere
Convenient 25-foot phone cord and snap-in line splitter
Comes with easy installation guide
Compatible with TiVo HD/HD XL, Premiere and Premiere XL
NOTE: This adapter does not enable broadband functionality. In order to upgrade Premiere's HD interface and download and stream movies and web content, you must connect your Premiere to your Internet-enabled home network using an Ethernet cable or a wireless adapter. For more information, see Connect your TiVo box to your network and the Internet.
Works with:
TiVo HD TiVo HD XL
TiVo Premiere and Premiere XL
Does not support HDUI
Need help?
|
877-494-4567