TiVo Bridge
This simple-to-install accessory turns coaxial wires into a high-performance Ethernet network, ensuring lightning-fast speed, high reliability and the performance of a wired connection. This product removes the need to run any new wires in your home. Seamlessly network all TiVo devices in minutes and maximize Tru Multi Room™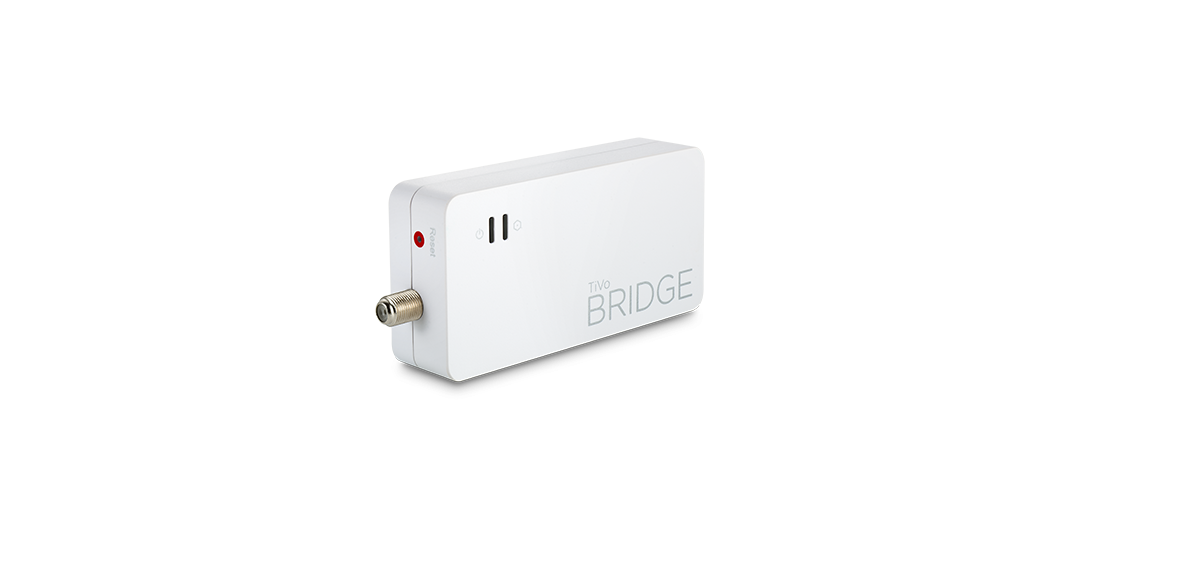 Tru Multi Room™

Network multiple TiVo products, such as multiple BOLT VOXs or Mini VOXs with a wired connection.
Network multiple products in a home where the router is not next to the TiVo BOLT.
Allow for multi-room streaming and transfer of recorded files.
Enable the use of Mini VOXs in a home that is not wired for Ethernet.
Allows the Mini VOXs to access LiveTV, Recordings, Guide Data and Streaming services, such as
Netflix, Hulu and Amazon Prime.
What you'll need

A TiVo Roamio or BOLT VOX product and a second Roamio or BOLT VOX or a TiVo Mini VOX
Coaxial Cable installed at each location of TiVo boxes
Ethernet Router

Included in the box

TiVo Bridge
2 way coaxial splitter
Ethernet Cable
Coaxial Cable
Power Adapter

Additional Accessories (sold separately)

TiVo Mini VOX
TiVo Slide Pro remote
eSATA external drive
Resellers
 
Become an authorized TiVo reseller today. You'll build business and delight your customers.
---
1 Additional third-party charges may apply.
2 Broadband internet connection is required to access and receive streaming content. Availability of third-party content from streaming sources is subject to change, and certain third-party fees may apply.
3 Streaming within the home requires a separately purchased TiVo Mini VOX (with service included) for each TV. The TiVo BOLT VOX/TiVo Roamio DVR works optimally with up to four TiVo Minis, and potentially with up to 11 TiVo Mini VOXs. A multi-network adapter (sold separately) may be required.   4 Requires iPad, iPhone, or iPod touch® device running iOS 7.0 or later, or Android mobile device running 4.1 or above with a non-Intel or AMD chipset (sold separately). Not all recorded content can be streamed or downloaded to a mobile device (due to copy protection assigned by content provider and/or other technical limitations). Some recorded content can only be streamed/downloaded to your mobile device while you are on the same network as your TiVo DVR. Out-of-home streaming/downloading is anticipated to be coming soon; when this functionality arrives, out-of-home streaming (a) will support streaming to only one of your devices at a time and (b) may not be available for all recorded content.
5 Separate charges may apply from service provider.