TiVo Mini VOX™
The TiVo Mini VOX is the perfect all-purpose multi-room companion to the TiVo BOLT VOX, delivering Tru Multi Room™, 4K-compatibility and voice control throughout the home, and providing the same TiVo experience and great TiVo features with no additional service fees.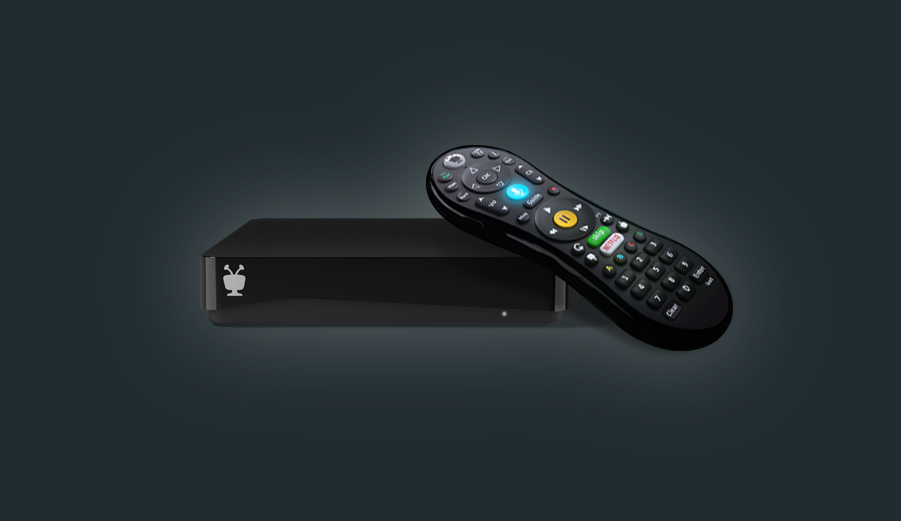 | | |
| --- | --- |
| Product dimensions | (in) 4.5 x 2.2 x 1.1 unit |
| Product weight | (lbs) 0.25 |
| UPC | 851342000421 |
| Model | ECB6000 |
| SKU | ECB6000TIVO |

1 Cable/MoCA®  2 Remote Finder 3 Digital Audio 4 HDMI 5 USB 2.0 6 Ethernet 7 Power, 12 VDC
(Ethernet cable not included)
Voice control

Use the power of your voice to search across all your live TV, DVR and streaming content.

New Interface

TiVo's visually-rich user experience delivers personalized predictions and access all your entertainment. Requires connection to TiVo BOLT VOX series or TiVo Roamio series DVR running the latest TiVo software (version 21.7.1 or higher).

Tru Multi Room™

Connects to any 4- or 6-tuner TiVo DVR through the home network

Access content

Watch live TV or recorded shows from a compatible TiVo DVR
Access the TiVo DVR to schedule a OnePass™ or a WishList® search
Provides access to TV shows, movies, and sports from broadband content providers2
Streams music from Pandora®, iHeartRadio, and more
XFINITY® On Demand available to Comcast® subscribers
What you'll need

At least one 4- or 6-tuner TiVo BOLT VOX™ or TiVo Roamio™ series DVR
A wired connection to the home network for both your TiVo DVR and TiVo Mini VOX via Ethernet or MoCA®
No additional service fee required
No additional CableCARD™ required

Included in the box

TiVo Mini VOX
TiVo VOX remote
Power adapter
6' HDMI cable
Installation guide
Resellers
 
Become an authorized TiVo reseller today. You'll build business and delight your customers.
---
1 Additional third-party charges may apply.
2 Broadband internet connection is required to access and receive streaming content. Availability of third-party content from streaming sources is subject to change, and certain third-party fees may apply.
3 Streaming within the home requires a separately purchased TiVo Mini VOX (with service included) for each TV. The TiVo BOLT VOX/TiVo Roamio DVR works optimally with up to four TiVo Minis, and potentially with up to 11 TiVo Mini VOXs. A multi-network adapter (sold separately) may be required.   4 Requires iPad, iPhone, or iPod touch® device running iOS 7.0 or later, or Android mobile device running 4.1 or above with a non-Intel or AMD chipset (sold separately). Not all recorded content can be streamed or downloaded to a mobile device (due to copy protection assigned by content provider and/or other technical limitations). Some recorded content can only be streamed/downloaded to your mobile device while you are on the same network as your TiVo DVR. Out-of-home streaming/downloading is anticipated to be coming soon; when this functionality arrives, out-of-home streaming (a) will support streaming to only one of your devices at a time and (b) may not be available for all recorded content.
5 Separate charges may apply from service provider.