Create a WishList® search
Know what you like, but not sure if or when it's on? Create a WishList search. You can search for actor, director, keyword, title, or category. A WishList search finds shows that match your search criteria on any channel you receive — and it keeps on searching for as long as you keep the WishList search. And, if you like, you can have your WishList automatically record any matches it finds.
This feature is available on: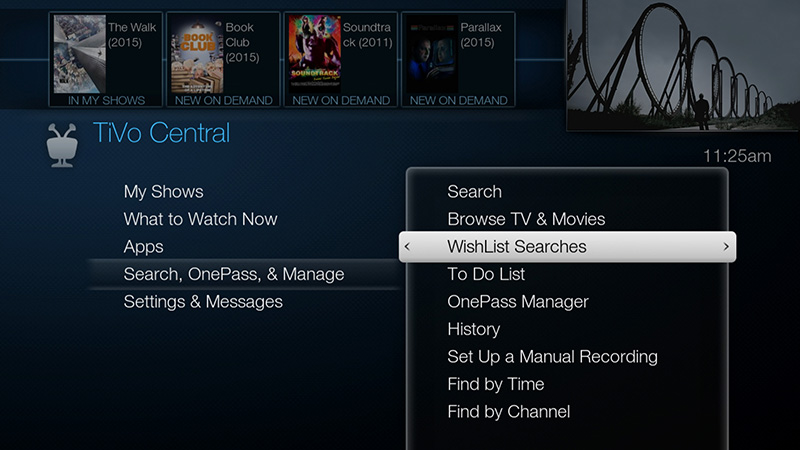 ---
Creating a WishList search
Your favorites are at your fingertips, even if you don't know when they're on!
From TiVo Central, select "Search, OnePass, & Manage" then "WishList Searches."

Select "My WishLists," then "Create a New WishList Search."

Next, enter as many of the following criteria as you like: 


Keyword or Title: With a Keyword search, the TiVo service looks for your keywords in the show or episode title, description, actor, director, year, and category information. A Title search looks only at show and episode titles.

Spell your keyword(s) using the arrow buttons on your remote to move around the grid; then press SELECT to enter a letter. When you're finished, move to "Done entering keywords," then press SELECT.
Actor or Director: Spell the first or last name using the arrow buttons on your remote to move around the grid; then press SELECT to enter a letter. As you select letters, a list of names appears to the right of the grid. When you see the person's name, move to the list. Use the UP/DOWN arrows to highlight the name you want, then press SELECT. You can then choose "Done picking actors" or "Add another actor" to make the WishList search even more specific.
Category: Choose a category and, if desired, a subcategory.

You can build a complex search using combinations of keywords, actors, and categories to narrow down your results.
Select "Done creating this WishList" when you're finished entering terms. Any shows matching your search criteria will automatically be recorded and will be appear in your "My Shows" list.
Your WishList search will now appear in your "My WishLists" list, where you can select it to view upcoming shows or set auto-recording options.