Program your TiVo remote control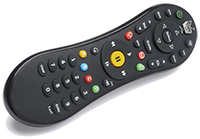 Your TiVo® remote can work with the other devices in your entertainment system! Control power, volume, and mute on your TV; volume and mute on your A/V receiver (stereo system); and input selection on your TV — all from your TiVo remote!
This feature is available on:
---
Program your remote
Follow these steps to program your remote:
From the TiVo Central screen, select 'Settings & Messages.'
Choose 'Remote, CableCARD, & Devices'
Choose 'Remote Control Setup.'
Follow the on-screen instructions to program your remote:


Complete Part 1 to control your TV's power, volume, and mute functions.
Complete Part 2 to control your A/V system.
Complete part 3 to control your TV's input function (e.g., to switch between your TiVo box and other devices connected to your TV, like a DVD player or game console).
Complete part 4 to customize the behavior of the remote's ADVANCE and REPLAY buttons.
Complete part 5 if you ever need to pair your TiVo BOLT® (all models), TiVo Roamio® (all models), or Slide Pro remote with your TiVo box to use RF functionality. RF mode allows you to control your TiVo box even if it's not within line of sight of the remote (e.g., if it is behind a cabinet door).
To reset all programmable buttons:
Press and hold the TV PWR and TiVo buttons simultaneously until the activity light on the remote turns on and remains lit when you release the buttons.

Press THUMBS DOWN three times, then press ENTER.