Eliminate the need to learn how to navigate different apps. TiVo Stream 4K lets you search, browse and create watch lists across all of your apps, all in one place.
Streamline your streaming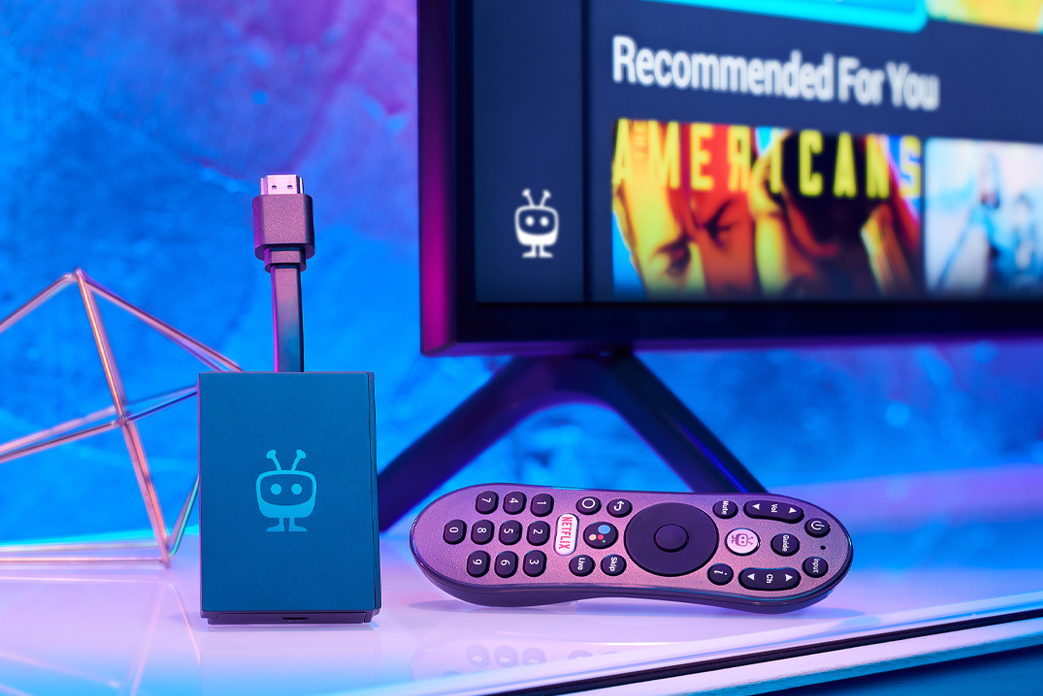 Your time is valuable — why browse endlessly? Access combined recommendations for movies and shows, pooled into one place from your favorite apps.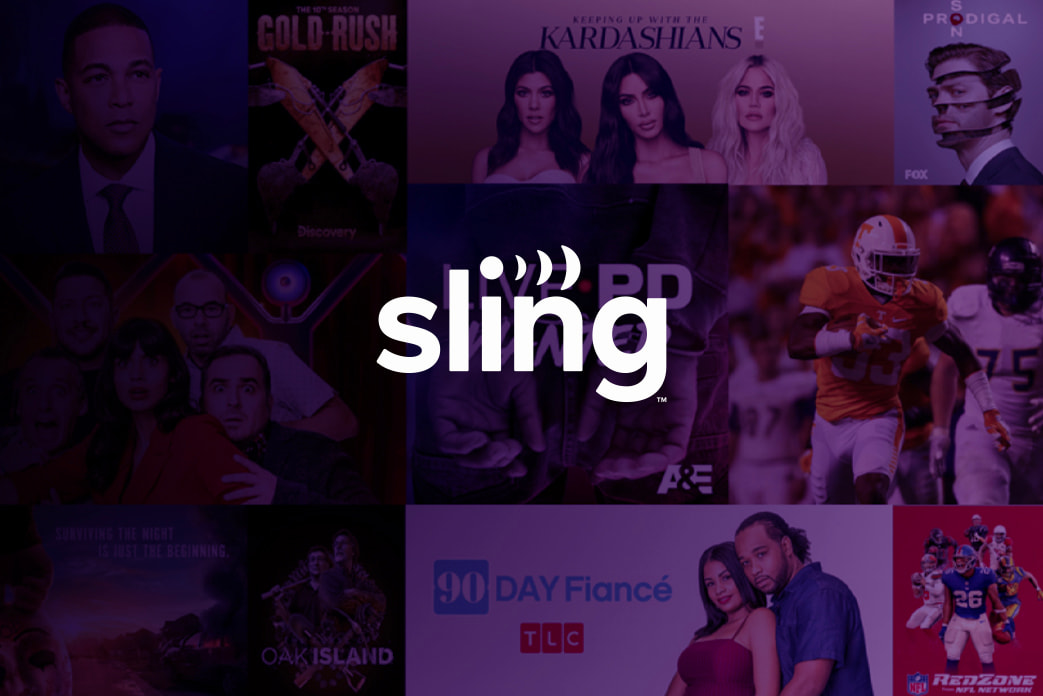 No useless channels
No long-term contracts
No hidden fees
Easy online cancellation
Enjoy the best of live TV from Sling alongside streaming movies and shows1.
An Amazing Android TV Streaming Player
Find over 5,000 apps in the Google Play store including Netflix, Prime Video, Disney+ and HBO Max.
Say "Hey, Google" and have Google Assistant find your favorite shows and movies, control smart home devices and so much more.
Use Chromecast built-in to cast photos, videos and music from your small screen to your big screen.
Download apps like Plex and Kodi to enjoy your own media content on your smart TV.
Top streaming apps








And more...2
Free content with TiVo+











Google Assistant
Chromecast built-in3
4K UHD, Dolby Vision HDR and Dolby Atmos
Voice remote control
No additional TiVo fees
Check out how Stream 4K compares
TiVo Stream 4K
Up to $45 in savings!
One combined experience across streaming apps and live tv
30-day free trial of HBO Max ($14.99 value)
$30 off any new subscription to Sling
Redemption instructions will be emailed within 48 hours of device activation
Offer ends 12/3/20. Restrictions apply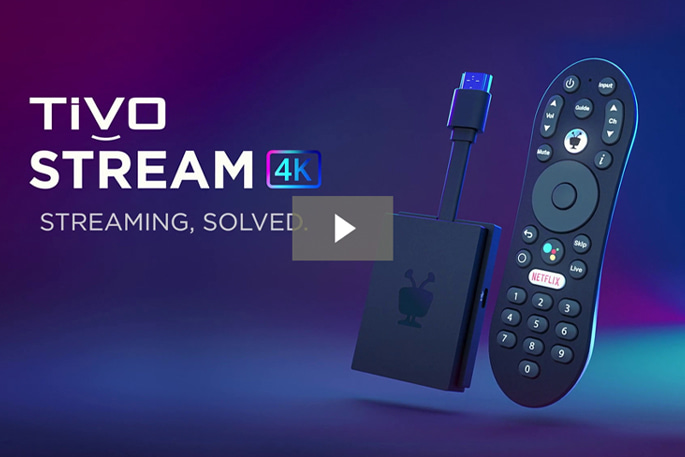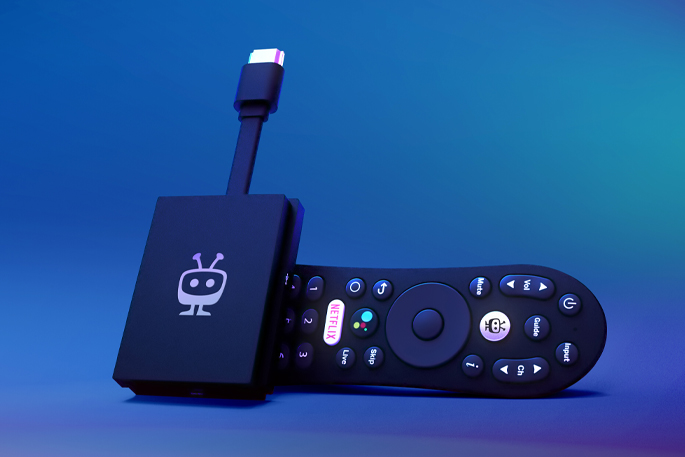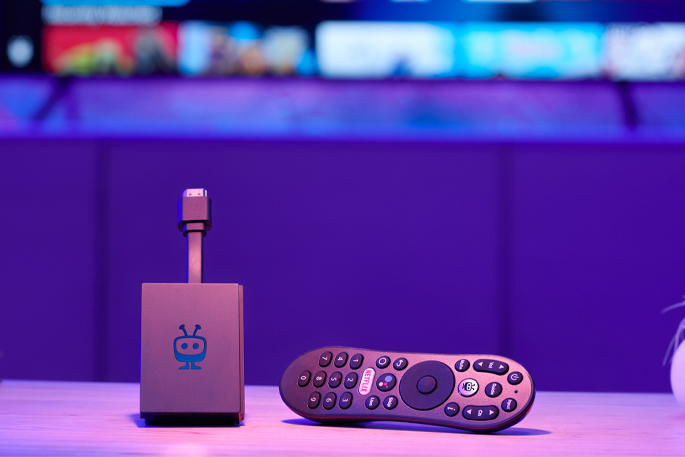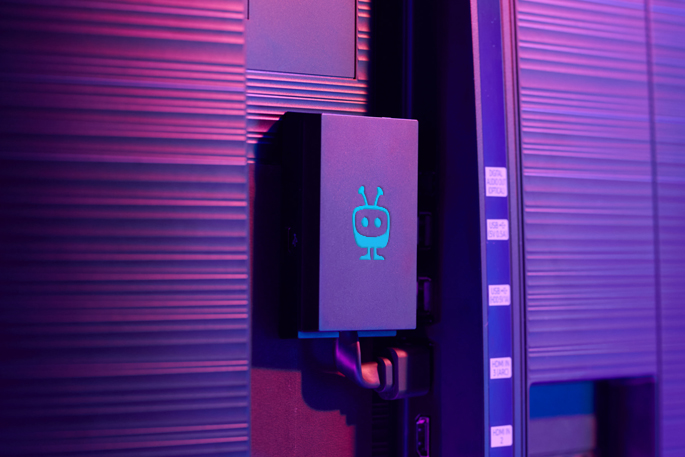 *Available to new Sling customers only, one per customer.  $30 dollar discount shown above applies to the first month's subscription price only, you will be billed the everyday price thereafter. Additional Terms and Conditions apply please visit the Sling links below for more information.

Offer only valid 11/10/2020 12:00am PT through 12/3/2020 11:59 pm PT, or while supplies last. Promotion is only valid in the US. Offer is non-transferable, may not be resold and may not be combined with other offers or promotions. If you violate any of these terms, the offer will be invalid. TiVo reserves the right to terminate this promotion at any time, for any reason, without notice. Limited Quantities Apply. Additional terms and conditions may apply.
TiVo Stream 4K device activation required between 11/10/20 -12/7/20, customers will be sent an email from TiVo with instructions on how to receive their HBO Max and Sling offers.
4K Ultra HD content requires a 4K Ultra HD capable television and 4K content. Not all apps or content is available in 4K and additional terms may apply.
The TiVo 30-day Money-Back Guarantee applies to Stream 4K purchases made on Tivo.com for thirty days from the date of purchase, and if you return the TiVo Stream 4K within 15 days of the service cancellation date, then you will receive a full refund on the purchase price. Customer is responsible for return shipping.
1 A Sling TV subscription is required (and sold separately) to access Sling TV live TV and cloud DVR.
2 Broadband internet connection is required to access and receive streaming content. Availability of streaming content from third-party sources is subject to change and certain third-party fees may apply. For example, Netflix unlimited streaming membership is required (and sold separately) to access Netflix content. Prime Video membership is required (and sold separately) to access Amazon Prime Video content. A Hulu subscription is required (and sold separately) to access Hulu content. Hulu is available only in the United States. Streaming apps may not be available in all regions.
3 Casting optimized for selected services only. Streaming quality for other content might vary. Supported operating systems and devices: Android 2.3 and higher, iOS® 7 and higher, Windows® 7 and higher, Mac OS® 10.7 and higher and Chrome OS (version 38 or higher).
© 2020 TiVo Platform Technologies LLC. TiVo, the TiVo logo, the TiVo silhouette logo, TiVo Stream 4K and TiVo+ are trademarks of TiVo Brands LLC. Netflix is a registered trademark of Netflix, Inc. Amazon, Prime Video and related logos are trademarks of Amazon.com, Inc. or its affiliates. Dolby, Dolby Vision, Dolby Atmos and the double-D symbol are trademarks or registered trademarks of Dolby Labora­tories. Google, Google Play and Chromecast built-in are trademarks of Google LLC. All other trademarks are the property of their respective owners. TiVo Inc., San Jose, CA 95002.
HBO Terms:
Customers who purchase and activate a TiVo Stream 4K device between November 10, 2020 and December 3, 2020, may qualify for a 30-day free trial of HBO Max (the "TiVo Stream 4K Promotional Offer").
To redeem the TiVo Stream 4K Promotional Offer, you must be a new HBO Max subscriber, 18 years or older, be a U.S. resident, and use your promo code to subscribe to HBO Max at HBOMax.com/tivostream4k before January 3, 2021, at 11:59 pm ET. Promo code is nontransferable and may only be used once. This offer cannot be combined with any other promotional or free trial offer for HBO Max. There is a limited number of promo codes available in the TiVo Stream 4K Promotional Offer and they will be provided by TiVo on a first-come, first-served basis.
Subscribing to HBO Max requires a valid payment method for continued access to HBO Max after the free trial. To cancel your subscription and avoid being charged, you must cancel before the end of the 30-day free trial.
After your 30-day free trial, you'll be charged $14.99/month plus applicable taxes. Your subscription will auto-renew each month unless you cancel before the renewal date. To change or cancel your subscription, see Billing Information in your profile settings of your HBO Max account at HBOmax.com.
Sling Terms:
This is a limited time offer. Promotion valid for a maximum credit of $30.00. Any fees in addition to the $30.00 credit will be billed to the credit card linked to the account. Sling TV reserves the right to modify or cancel the offer at any time. Offer good while supplies last. Qualifying customers only. Offer only applies to New Sling TV customers that purchased the TiVo Stream 4K device during the promotional period of 11/10/2020 - 12/3/2020.  
Sling TV offer available to new customers only upon Sling TV account creation.  Note this is separate and independent from the TiVo account creation. Offer is non-transferable, may not be resold, and may not be combined with other offers. Customers must have a valid email address. A promotion code for $30 Sling TV credit will be sent to your email address after you activate your TiVo account. The e-mail will provide instructions on how to redeem the promotional code.  
Promotional code valid until 11:59 p.m. (PT) December 31st 2020. If any of the products related to this offer are returned, your refund will equal the amount you paid for the product, subject to applicable refund policies. If you violate any of these terms, the offer will be invalid. One offer per customer. Cannot be combined with any other offers.  Must provide email address and credit card at time of account creation. Your account will be authorized to receive programming upon your first login. Only available within the United States. Use of the TiVo Stream 4K is subject to the terms found here. Use of Sling is subject to the terms found here.